100% FREE to sign up! Start making money today.
Watch Video 1 below to see how to create your account.
3- Install Browser Extension
Before you begin making money online by doing easy searches, please watch the three videos above. They will show you how to create your account, give you a tour of your account, and how to install your browser extension. After that, please sign up and create your account by clicking the button below. Then come back here and watch the Helpful Tips video and a Demo of how to complete orders so you get the maximum amount of orders and money in your PayPal account.
Welcome to Search & Splurge
SerpClix is my favorite Micro-task site because it is actually worth my time and effort. As you can see in the screenshot below, I make at least $25 per month. This pays for my products to create product reviews in the Affiliate Marketing niche or purchase cryptocurrencies. I have been doing this for over two years and I don't plan on stopping anytime soon. Why should I? It's free and easy money. I stopped doing surveys because they were too time consuming and I didn't qualify for half of them. The most I made was $10 for the month, once. Forget that! What you are learning to do here today is well worth your time and effort…if you can call it that. If you do as I show you and follow my tips, you should make at least $25 per month. I obviously can't guarantee that, but you should 🙂 That's enough money to splurge on things you don't usually buy or have been unable afford because money is tight these days.
Depending on what country the order comes from, you will be paid either $0.05 or $0.10 for each successful search. Orders from the USA pay 10 cents and orders from the rest of the world pay 5 cents. SerpClix has NEVER missed a payment nor have they ever been late.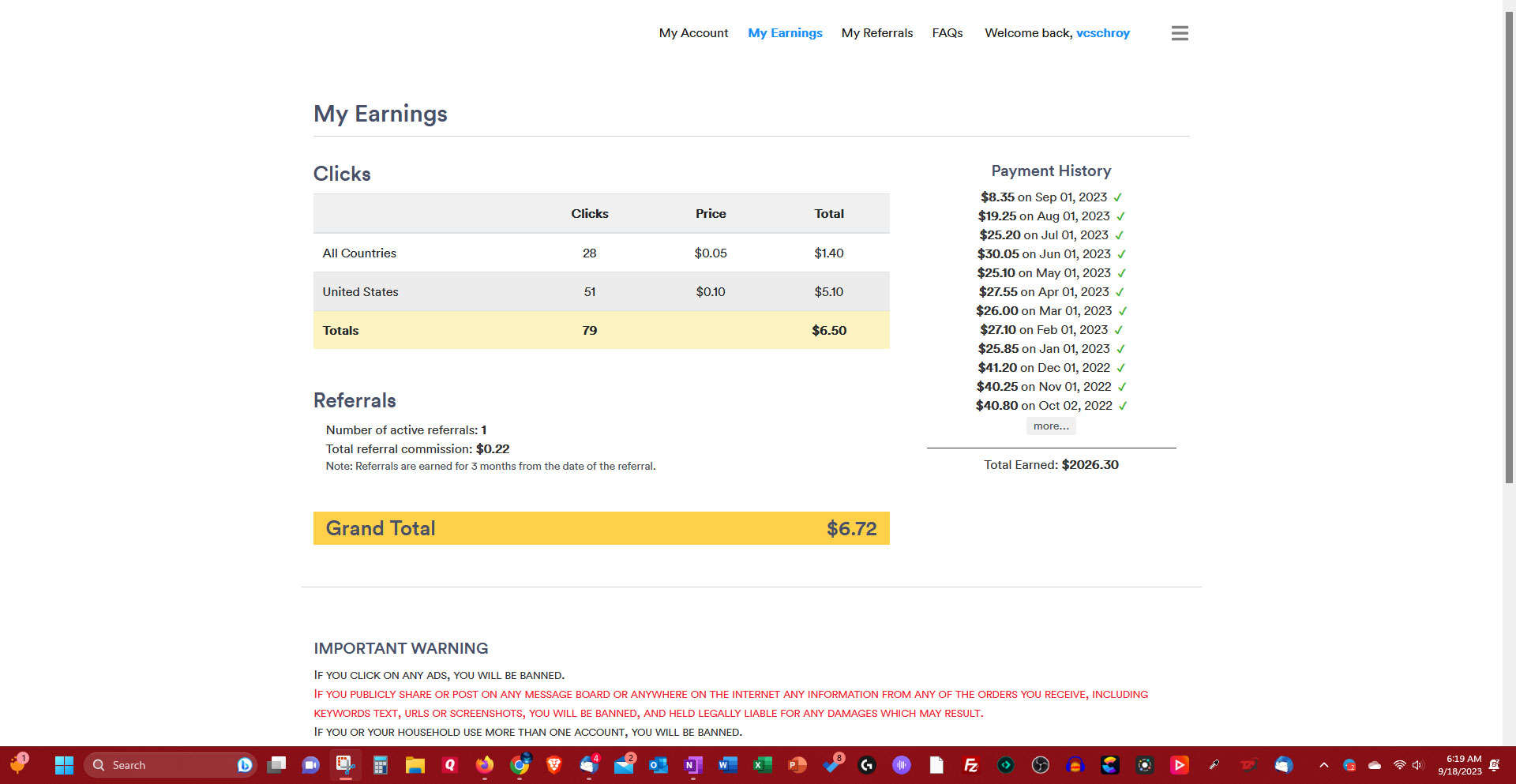 I have been away from my computer most of the past 3 months so my earnings will be very low. But I am still doing the clicks when I can.
AFFILIATE DISCLOSURE: If you sign up for this free program through my link, I will be paid a commission of 10 cents for every dollar you make for your first three months only – at no cost to you; the company pays me. After you sign up, I suggest you do the same thing. I show you how to do this in the training.
TERMS & CONDITIONS:- Search & Splurge is not a 'get rich quick' scheme. Although Search & Splurge is 100% FREE, you understand and agree that there are important factors that should be considered when deciding whether to invest in any digital product or website. NO EARNINGS PROJECTIONS, PROMISES OR REPRESENTATIONS can be GUARANTEED. While the products I offer have created hundreds of success stories, I have no idea of your experience, and more importantly your work ethic. You must recognize and agree that I have made no implications, warranties, promises, suggestions, projections, representations or guarantees whatsoever to you about future prospects or earnings, or that you will earn any money, with respect to your purchase of any of my products. Any earnings or income statements, or any earnings or income examples, are only estimates of what I think you could earn. Some of my clients make no money, some make a little bit of money, some make a lot of money. What you earn will be down to a lot of factors that are out of my control.